18 July, 2011
Today we got lucky! A new unannounced S40 Nokia handset with a 1GHz processor and 512MB RAM broke loose and we got a few shots to show you. The Nokia C3-01.5 is the first S40 phone based on the new hardware platform, but it looks exactly as its C3-01 Touch and Type sibling.
Just a month ago we heard about a new wave of S40 handsets coming up. We also encountered an interesting rumor about a new S40 handset with a 1GHz processor, 512MB RAM, a ClearBlack capacitive display and hardware QWERTY keyboard.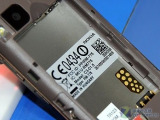 Nokia C3-01.5
The Nokia C3-01.5 that we meet with today (quite a name, right) is not the rumored handset, but it probably comes from the same lineup. It's a refresh of the already familiar C3-01 Touch and Type with the notable improvement of a 1GHz processor and 512MB RAM. The rest of the specs should be the same.
According to a few leaked documents, the new models that Nokia has in the works are the C2-01.5 (RM722), C3-01.5 (RM-702), X2-01/X2-03 (RM-709), X3-02.5 (RM775 or RM-776) and the X2-01.1(RM-717). As you can see all these should be upgraded versions of some old fellas.
As the leaked pictures suggest, the retail names will probably stay the same. Nokia's product naming convention is obviously bound to get even more confusing.
We guess those S40 announcements should not be that far away in time. Nokia World in September, anyone?